Every day, we protect children and prevent abuse.

Child abuse can take many forms. It can be emotional, physical, sexual or neglect and it can happen to any child, in any family, in any place or online. Abuse often happens over a period of time, rather than as a one-off event, and can have a devastating effect on a child's development and society as a whole.

Some of the effects child abuse can have include negative effects on a child's health, relationships and education and adults who were abused as children may find it harder to cope with life's stresses, get a good job, or be a good parent. Abuse can cause mental health problems, drug or alcohol issues, criminal behaviour – or showing signs of harmful behaviour.

The good news is it doesn't have to be this way. All FN50 Dinner guests can play a part in preventing abuse and furthermore can all help a child who's experienced abuse to get their life back on track.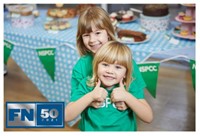 To make a donation to NSPCC via our FN50 Just Giving page, please scan the following QR code
or click here to donate.